Just a few days until September! Exciting month! New school year, new job, and soon, new adventure! I learned a lot in this past year. Despite the fact that I didn't accomplish what I wanted, the things I have learned brings me some hope. Anyway, September has is a fresh new start for me, and one of the things that will start me off is the following list of book releases. They are all coming in September and I hope to read some of them. Enjoy.
1. Little Fires Everywhere
Publication Date: Sept. 12, 2017
Little Fires Everywhere is written by Celeste Ng. The story takes place in a peaceful, happy suburb. Elena Richardson's family rents out a house to Mia Warren and her daughter Pearl. The Richardsons and the Warrens become friends, but this is threatened when old friends of the Richardsons decide to adopt a Chinese-American baby. This leads to a custody that divides the town. Suspicious of Mia's motives, Elena investigates Mia's past which comes at devastating costs.
2. The Black Tides of Heaven
Publication Date: Sept. 26, 2017
As infants, the Protector's twin children, Mokoya and Akeha were sold to the Grand Monastary. Mokoya developed a strange prophetic gift while Akeha saw what moved adults into action. They saw the sickness at the heart of their mother's protectorate.
Rebellion grows
.

Th
e Machinists discover new levers to move the world everyday, while the Tensors fight them and preserve the state's power. Unwilling to continue be used in her mother's schemes, Akeha leaves the Tensorate behind and follows the rebels. But every step Akeha takes towards the Machinists is a step away from Mokoya. Can Akeha find peace without shattering the bond they share with their twin?
3. I Eliza Hamilton
Publication Date: September 27, 2017
Elizabeth Schuyler, a general's daughter, is used to socializing with dignitaries and soldiers. But no other visitor to her parents' home has affected her as much as Alexander Hamilton, a charismatic, ambitious aide to George Washington. They quickly marry and despite the uproar of the American Revolution, Eliza is confident in her brilliant husband and her role as his helpmate.

But it is in the aftermath of war, as Hamilton becomes one of the country's most important figures, that she truly comes into her own.
In the new capital, Eliza becomes an adored member of society, respected for her fierce devotion to Hamilton as well as her grace. Behind closed doors, she astutely manages their expanding household, and assists her husband with his political writings. Yet some challenges are impossible to prepare for. Through public scandal, betrayal, personal heartbreak, and tragedy, she is tested again and again. In the end, it will be Eliza's indomitable strength that makes her not only Hamilton's most crucial ally in life, but also his most loyal advocate after his death, determined to preserve his legacy while pursuing her own extraordinary path through the nation they helped shape together.
4. Once an Heiress
Publication Date: September 26, 2017
Boston society darling Gigi Wentworth leaves behind everything she holds dear for the sake of love—only to learn that the man with whom she'd planned to elope is nothing but a thieving scoundrel. Abandoned in New York City and saddled with debt, Gigi must sell a prized family heirloom, but even that sacrifice isn't enough to get her home. Her determination drives her to take on work as a lady's maid, keeping her identity a secret…until she's discovered by a former friend with a hidden agenda.
Although dealing with his own serious family issue, Christopher "Fitz" Fitzpatrick sets out to return the missing heiress to her rightful place in society. But the more he interacts with this new Gigi, the more shocked he is to find her so changed. Gone is the frivolous beauty in expensive gowns. In her place is a woman he could grow to love. When secrets are revealed, will Gigi and Fitz find the trust they need to confront the past and open their hearts?
5. Little Soldiers
Publication Date: September 19, 2017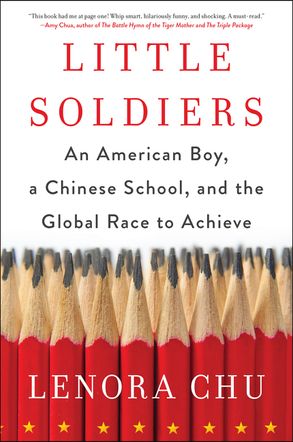 When American mom Lenora Chu moved to China with her little boy, she faced a tough decision. China produced some of the world's top academic achievers, and just down the street from her home in Shanghai was THE school, as far as elite Chinese were concerned. Should Lenora entrust her rambunctious young son to the system?
So began Rainey's immersion in one of the most extreme school systems on the planet. Almost immediately, the three-year-old began to develop surprising powers of concentration, became proficient in early math, and learned to obey his teachers' every command. Yet Lenora also noticed disturbing new behaviors: Where he used to scribble and explore, Rainey grew obsessed with staying inside the lines. He became fearful of authority figures, and also developed a habit of obeisance outside of school. "If you want me to do it, I'll do it," he told a stranger who'd asked whether he liked to sing.
What was happening behind closed classroom doors? Driven by parental anxiety, Lenora embarked on a journalistic mission to discover: What price do the Chinese pay to produce their "smart" kids? How hard should the rest of us work to stay ahead of the global curve? And, ultimately, is China's school system one the West should emulate?
She pulls the curtain back on a military-like education system, in which even the youngest kids submit to high-stakes tests, and parents are crippled by the pressure to compete (and sometimes to pay bribes). Yet, as mother-and-son reach new milestones, Lenora uncovers surprising nuggets of wisdom, such as the upside of student shame, how competition can motivate achievement, and why a cultural belief in hard work over innate talent gives the Chinese an advantage.
Lively and intimate, beautifully written and reported, Little Soldiers challenges our assumptions and asks us to reconsider the true value and purpose of education.